Road transport in the city of Bangalore, nee Bengaluru will be integrated smoothly with another mode of transport -- Bangalore Metro. Compact BMTC bus bays will be built at Metro stations and commuters can use the services of KSRTC, BMTC and Metro Rail with a single ticket system.........A dream project to become a reality shortly.
Several MRTS proposals for Bangalore have been in the pipeline for nearly 24 years. In 1982, a study suggested that the MRTS should have a route length of 12.20 km. and pegged the cost at Rs. 239.15 crores.
In 1983, the Metropolitan Transit Project, an organization of Indian Railways, prepared a feasibility report for provision of suburban rail services on existing lines, a circular railway of 57.9 km. metro system on two corridors, in Phase-I 12.9 km. from Rajajinagar to Jayanagar and in Phase - II 11.2 km. from Hudson Circle to Krishnarajapuram. In 1988, a World Bank aided study was carried out by RITES and the study recommended a Commuter Rail System along with improvement of road transport system.
Later, in 1994, the Bangalore Mass Rapid Transit Limited (BMRTL) was incorporated by the State Government to implement the mass rapid transit system. BMRTL in turn asked the IL&FS to carry out a feasibility study for LRT System on Public-Private Partnership. However, though the partner was selected, the project did not take off. Later, Delhi Metro Rail Corporation (DMRC) in partnership with RITES prepared a Detailed Project Report (DPR) for Bangalore Metro Rail, Phase I in 2003 at the instance of the Government. It proposed two double line corridors: East-West (EW) and North-South (NS) with a total length of 33 km.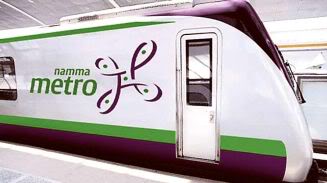 The Bangalore Metro Rail finally took shape with the Karnataka Government clearing the project in March, 2005 and the Union Government giving its approval in April, 2006.The Bangalore Metro, was initiated to decongest the City traffic by providing a public transport system. The project weaves through the bustling commercial and residential areas of the City. The first phase of Bangalore Metro, consisting of two corridors of double line electrified, will cover a total of 42.30 km with an outlay of Rs 6,395 crore.
However the traffic-weary Bangaloreans need to wait only till September 2012 for a breezy ride on the entire network of the Namma Metro. And what's more, take a train every four minutes and it will be reduced to three minutes in due course. The project is aimed at mass public transport and creating a pollution-free atmosphere. The Completion schedule of 42.3 km 'Namma Metro' corridor is
* Cricket Stadium and Byappanahalli: December 2010/January 2011
* Swastik to Yeshwantpur to Hessarghatta Road: June 2011
* Underground section: June 2012
* City Railway Station to Mysore Road: August 2012
* K R Road to R V Road Terminal to Puttenahalli: September 2012
The Namma Metro Project, once commissioned, will reduce the load on Bangalore's roads by 8 lakh vehicles, according to the government.
The completed network will include two corridors, one running east to west connecting Mysore Road and Deepanjali Nagar, and the other, the north-south corridor connecting Yeshwanthpur and Jayanagar. The proposed Metro will have two tracks: an 18.1-km stretch from Mysore Road to Byappanahalli, and an 18.4-km stretch from Yeshwantpur to R.V. Road, both via the Kempegowda bus terminus. The travel time from one corridor to another will range between 28-30 minutes with a carrying capacity of 40,000 peak hour peak direction traffic (PHPDT).
The work on the first phase of the project would be completed by December 2011. The first phase would have an underground stretch of 6.76 km near the City Railway Station, Vidhana Soudha, Majestic and City Market.
The total stretch of the proposed metro rail network in the first phase would increase from 33 km to nearly 40 km with the decision to extend the route from Yeshwanthpur to Hessarghatta in "Reach - 5" of the first phase.
Along old Madras Road up to junction of 100-ft Road, Indiranagar 100ft road to BM Sri Circle
BM Sri Circle along CMH Road up to Aanjanappa Circle
Aanjanappa Circle (Ulsoor) along SV Road up to Trinity Circle
Trinity Circle to Mayo Hall

Mayo Hall-Cubbon Park along Bal Bhavan Road
Dr Ambedkar Road (from MS Building up to KR Circle) along District Office Road-Post Office Road
Majestic Circle near SBM-KG Road
KSRTC bus stand-below railway station
Magadi road up to Leprosy Hospital

From Leprosy Hospital along Magadi Road up to Tollgate (junction of Chord Road)
Along Chord Road up to Mysore Road
Along Mysore Road up to Nayandahalli

The Metro Rail plan with North-South and East-West corridors covering close to 37 km has underground stretches of 6.8 km with the rest either elevated or on road surface level. The underground portion is mostly below Mahatma Gandhi Road and Cubbon Park. From Mayo Hall to Leprosy Hospital, the route would be covered Underground while the balance route would be Elevated or Ground level.
The proposed Elevated/Underground route from North to South is :
From Yeshwanthpur along Tumkur Road up to Soap Factory
From Soap Factory Circle along West of Chord Road up to Modi Hospital Road Junction
Along Mahakavi Kuvempu Road up to Railway Bridge at Malleswaram;Runs parallel to railway track up to Swastik

From Swastik (Opposite Stadium) along Platform Road
KSRTC bus stand-below East-West Corridor
Below Balepet-Nagarthpet-Arcot Srinivasachar street
Below Vanivilas Hospital and become elevated at Bangalore Medical College

KR Road (Near BMC) up to Vanivilas Circle
Along VV Road up to Lalbagh West Gate
From West Gate along RV Road up to dead-end of RV Road
In the above, the route from Swastik to Bangalore Medical College would be underground while the other route would be Elevated route.
The north-south corridor between Peenya and J.P. Nagar and the east-west corridor from Byapannahalli to Mysore Road will intersect at the metro interchange-terminal to come up between the Bangalore City Railway Station and the Kempegowda Bus Station. Office-goers can change over to another destination there with the waiting time being less than 10 minutes.
The Metro is expected to carry 40,000 passengers an hour in each direction. Initially, there will be a service once in four minutes in each direction. Each train will carry 2,068 commuters. Bangalore Metro Rail Corporation officials say that when fully operational, the partly underground system can transport 8.2 lakh passengers every day. With stations located almost every five minutes and with barely 3 km between each, getting from place to place will be easy. And with no parking hassles either.
What the metro will do is reduce the travel time by at least half for most commuters. Being on dedicated tracks means no traffic signals or snarls at intersections to make travel longer and tedious as on the roads. Despite flyovers and underpasses, travelling on the city roads has not become any faster because of the sheer volume of vehicles — 22 lakhs at the last count.
The government also announced that instead of two Metro stations on the 100 Feet Road-CMH Road stretch, there will only be one common station. These two roads will also be widened by reducing the footpath width, in order to deal with potential traffic problems. Rehabilitation allowance, or "hardship allowance" for affected inhabitants of CMH Road and all other property losers, has also been planned at a cost of Rs 30 crore.The Bangalore Metro Rail Corporation is also proposing to extend the network from Yeshwantpur to Peenya in North Bangalore, and from RV Road to Banashankari bus stand.
M G Road station
Among other decisions taken on the Metro project, it was decided to limit the area acquired for the station on M G Road to 1,533 sq metres, through acquisition of the Plaza theatre building. Stations will be redesigned using lesser land for South End Circle, and only vacant land will be acquired for the Trinity Circle station, it was decided.
Promising that the project would provide comfortable, quick, safe, economical and pollution-free transport at an affordable cost, the corporation said initially — during the year 2011 — the Metro will ferry 10 to 20 lakh passengers. This will be increased to 19.72 lakh by 2021.
The Route Map
The East-West corridor will be 18.10 km. long, starting from Byappanahalli and terminating at Mysore Road terminal, going via Old Madras Road, Indiranagar, C.M.H. Road, Ulsoor, Trinity Circle, M.G. Road, Cricket Stadium, Vidhana Soudha, Central College, Majestic, City Railway Station, Magadi Road, Hosahalli, Vijayanagar and Deepanjali Nagar.
The 24.20 km. North-South corridor will begin at Hessarghatta Road Terminal and terminate at Puttenahalli going via Mahalakshmi, Rajajinagar, Kuvempu Road, Malleswaram, Swastik, Majestic, Chikpet, City Market, K.R. Road, Lalbagh, South End Circle,Jayanagar and Puttenahalli.
Out of the 42.30 km., 8.822 km. will be underground near City Railway Station, Vidhana Soudha, Majestic and City Market and most of the rest will be elevated.

GAUGE : Standard Gauge
TRACTION : 750V dc Third Rail
SPEED Max : 80Kmph ; Sch. 32Kmph
NO. OF STATIONS : 41
TRAVEL TIME : 33/44 Mins. (end to end)