Bangalore is one of the fastest growing cities in Asia and one of the most sought after cities in India by people, companies, multinationals and tourists. The massive growth that the city has witnessed in the last decade is a clear indication of this city being developed to be on par with the most modern cities of the world. The population of Bangalore has grown enormosly on account of migration of people from all corners of India, neighbouring countries and from countries in the West. This has indeed reduced the local population to around 38% of the total population. This also indicates the big heart of the Bangaloreans who have welcomed everyone to this Paradise.
Along with the population the city has also seen great improvements to its roads, highways and other infrastructure. Several flyovers have come into existence in the last 5 years easing the traffic and making travel more easier. While there is still a lot to be done with regard to "deadly' traffic, the Government has indeed been working at a great speed to bring Bangalore on par with the great cities of the world. If things move in the right direction, Bangalore 2010 will be truly a city of the future where everyone wants to live. And life will be more comfortable, at least in terms of transport. But if infrastructure projects continue to become victims of political bickering, the Silicon City is sure to be more chaotic.
Metro Rail, the international airport at Devanhalli, four-laning of Bangalore-Mysore Road, Bangalore-Mysore Express Corridor, improvement in BMTC services, more flyovers and underpasses are expected to make travelling both within the city and from outside more comfortable.

The services and entertainment sectors are also developing rapidly. There is now a greater thrust towards developing world-class properties. Sanjay Khan's Hilton-managed Golden Palms Resort & Spa has opened, as has the Prestige Group's Angsana Oasis Spa and Resort in the suburbs of Bangalore.
Clearly, real estate is a critical aspect of much of the growth. There are opportunities galore for entrepreneurs - the symbiotic existence of real estate developers and business people has seen Bangalore develop into one of Asia's fastest growing cities. The urban landscape is changing rapidly, but when business is good.
If its happening............it's happening here in Bangalore.
Bangalore Infrastructure has been a Hot button issue for the last six months to One year. Read what out visitors have to say to improve Bangalore Infrastructure. CLICK HERE.
Infrastructure Projects in Progress
Over the next couple of months some of the Infrastructure Projects will get finishing touches and expected to be operational by Novemebr 2008 to February 2008. Among them are:
Railway Underbridges at the following places - Cantonment, Frazer Town, Yeshwanthpur and Wheelers Road.
Railway Overbridge at Mathikere and Marthahalli.
Flyover at Gali Anjaneya Temple in Mysore Road.
Grade Separator at Malleshwaram
Upcoming Projects: Some of the major infrastructural projects that are planned for the city are:
Bangalore Metro Rail Project - Click here for More details

Monorail
Close on the heels of the Centre waving green signal to the Metro rail, The Karnataka government has sanctioned the much talked mono-rail project to serve as a supplement to Rs 6400 crore Bangalore metro project.
The proposed mono rail project would come up at four corridors of the metro rail project and serve as second feeder. The Managing Director of the Bangalore said that the project comes up 33-km length comprising both East-West and North-South corridor and works would be started in all sections by this year end.
Once completed Bangalore would be the 106th city in the world to get such major urban infrastructure. While the elevated structure would cost Rs 150 crore per kilometre it would cost over 330 crore per kilometre stretch of the underground section, he added.
The Centre recently approved the much delayed Metro Rail project, which the JDS supremo H D Devegowda had been opposing on the ground that it would burden the commuters.
---
Bangalore Today and Tomorrow
In the one day seminar held recently in Bangalore (Jan 2008) several Government agencies came togethere and made several promises to improve the infrastructure f the City.
BRUHAT BANGALORE MAHANAGARA PALIKE
Six underpasses proposed at a cost of Rs 131 crore
(Nagavara Ring Road, Kadirenahalli Ring Road, Puttenahalli, Prof CNR Rao Circle, Basappa Circle, Hennur Banaswadi)
Development of arterial 70 roads of 155 km at a cost of Rs 130 crore
Inner Core Ring Road 30 km of elevated road at a Rs 1,800 crore
EXPRESSION OF INTEREST: March 2008 Investment of 7,989 crore under JNNURM (Storm water drain network, environment management, urban renewal, road network, solid waste management, basic services to urban poor)
Revamp of solid waste management, landfills on 500 acres of land and a modern abattoir at Iglur at a cost of Rs. 34 crore are also on the cards.

BANGALORE DEVELOPMENT AUTHORITY
New land acquisition policy. Under this policy, some proportion of the land acquired from landowners will be offered to land owners after development
BDA plans to distribute about 50,000 sites with 20 per cent area reserved for vertical growth with apartments. About 2,00,000 houses planned under the unique programme of budget housing for economically weaker section
(Eastern sector from Varthur Road to Sarjapura road to Hosur road of 4,560 acres will cater 1,63,589 housing units and 11,560 sites. Western sector comprising Mysore to Magadi Road, along the BMICAPA
Hi-Tech City Corridor connecting Electronic City for a length of 8.5 kms at a cost of Rs 140 crores will be taken up
Grade separators at Magadi Road junction, Agara junction and Iblur Junction will be taken up

BANGALORE METROPOLITAN REGION DEVELOPMENT AUTHORITY
The authority will take up first township at Bidadi and consequently Solur, Nandagudi, Sathanur and Ramanagaram. Institutional area, government offices, super speciality hospital, Institute of Rural Management and Global Apparel Village will be located near Ramanagaram:
An access controlled link from Outer Ring Road to BIAL with a 180 kmph design speed with flyovers at Challakere and Boyilahalli lakes will be taken up in 2008. In the second phase, it will be connected to City Core Ring Road
* Integrated townships with work-live-play concept
* Rejuvenation of water bodies
* Redevelopment of 39 roads of special economic relevance
* BMR ring roads with 180-kmph speed limit
* Second phase of airport expressway to connect NH 207

BANGALORE METROPOLITAN TRANSPORT CORPORATION
1000 Volvo buses will be added to the existing fleet of 39 buses in phased manner
Modernisation of Jayanagar and Yeshwantpur stations and Domlur and commissioning of seven new stations will be taken up this year
On-line GPS-GIS based vehicle tracking system on all 4,000 plus buses to be taken up in 2008
Installation of real time passenger information system at 75 Volvo stops in the city Smartcard based automatic fare collection system on all buses for student passes, public passes and others on card
BANGALORE POLICE
Cameras for crime-prone areas
A 10 per cent reduction in crimes hopefully reducing home insurance prices. That's what the Bangalore City Police is pointing at as last year's high point. This, when the force is grappling with a variety of problems, the latest being terror threats. As an innovative crime-buster initiative, the police are planning to install secret surveillance cameras in crime-prone areas of the City.
"Bangalore accounts for almost one-fourth of the State's crimes... we have around 37,755 crimes to be investigated, apart from the civic disputes and miscellaneous cases," Police Commissioner N Achutha Rao said.
Further, there is the seemingly never-ending line of VIPs visiting the City. According to the police, Bangalore hosts 1,671 VIPs, including 100 heads of State, every year. On the traffic scene, the police are furthering the B-TRAC 2010 scheme with plans to install 150 new signals, 100 monitoring cameras and establish a state-of-the-art Traffic Management Centre. The other plans are:
*A separate cyber crime cell for Bangalore
* Digital albums of rowdy-sheeters
* Smart traffic signals with Area Traffic Control
* 100 Variable Message System Boards to inform commuters on traffic blocks
* Recruitment of 2,027 constables in the offing
---
500 crore tourist attractions for City
The first step towards attracting more tourists to the City has been the state government's clearance for two mega projects in January 2005— a Rs 348 crore Heritage Theme Park near Vasanthpura and a Rs 143 crore Digital film studio near Bidadi. The theme park, to be established by the International Society for Krishna Consciousness (Iskcon) will have religion, culture and tradition for its theme. It proposes to replicate the technology used in Disneyworld in US to convey the Puranas, trace the birth and life of Lord Krishna, dungeons of Hiranyakashipu and the famous Narasimha story.The park will be equipped with a 4D theatre, a musical fountain, an aqua screen, theatre of performing arts with a revolving stage where over 100 artistes can perform, a petting zone for children, a story corner and a massive food court with varieties of Indian food, monorail and ropeway.On the other hand, the film studio is expected to be ultimate in modern technology, combining production facilities and entertainment. The complex will have a multiplex, funplex apart from film studios and an institute.
---
Bangalore Flyovers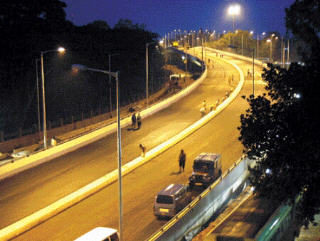 Bangalore Development Authority (BDA) threw open the much-awaited Dairy Circle flyover for traffic movement recently.
The flyover connects Lalbagh Road to Hosur Road, ensuring smooth flow of vehicles on this route. Presently, this stretch is one of the busiest traffic junctions with an estimated 12,500 vehicles (passenger car per unit) passing through it per hour. Constructed at a cost of Rs 11.25 crore, the total length of the flyover is 534.82 mts. It also has two carriage ways of 7.50 mts each. The entire flyover rests on 11 piers and two abutments founded on 72 piles, BDA officials said. The BDA is, however, yet to complete the work on an underpass being constructed at the junction. The proposed underpass is taken up at the cost of Rs 6.05 crore and will connect Bannerghatta Road to Hosur Road. The project is scheduled to be complete in November 15, 2005.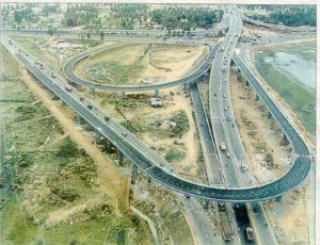 In December 2003, India's longest flyover was inaugurated in Hebbal. The Rs 65-crore Hebbal flyover is the longest in the country running up to 5.35 km, with two separate carriageways and six lanes and is said to be South India's first interchange at five levels.
The Hebbal flyover is the sixth built by the Bangalore Development Authority (BDA). Built in a record 24 months' time, it boasts of five loops along with a bridge at the grade level and is aimed at decongesting the National Highway No. 7.
Jayadeva Circle flyover was finally thrown open to the public on 16 February 2005. It has taken just over two years since the project was awarded to the UP State Bridge Corporation, to when the ribbon was cut.. The grade separator isn't completed yet, and the flyover is expected to be fully completed by June 2005.
True to the nature of Bangalore roads, the flyover is a one-way, from the Banashankari end towards the Central Silk board (see graphic). They can take a left at 'ground level' to head to Dairy Circle, and a right towards Bannerghatta.

Traffic coming from Bannerghatta can also climb onto the flyover to go towards the Silk Board. To go towards Dairy Circle they must take the underpass, while they can take a turn left towards Banashankari at ground level.
Those coming from the Silk Board can take a left to Bannerghatta, proceed straight on to Banashankari, or take a right to Dairy Circle, all at ground level.
From Dairy Circle, there are ground level left and right turns to the Silk Board and Banashankari respectively, while the underpass speeds the traveller's way to Bannerghatta.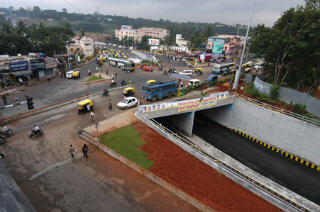 The Rajajinagar Underpass was recently inaugurated on 25 November 2005. This four land bi directional underpass at Rajajnagar Entrance is expected to provide easy flow of traffic in this busy area.
(photo courtesy : Deccan Herald)
A new project that would be coming up to ease the traffic from Silk Board junction to Electronics City via Hosur Road and to reduce the time taken would be the elevated road project at a cost of $450 crores.
The project includes construction of a four-lane elevated highway between Silk Board Junction and Electronic City and extension of 16-km ground road from Electronics City to Attibele. The new road will be a six-lane dual carriageway with two-lane service roads on either side.
The following are the recent flyovers/ underpass that have come up in Bangalore.
Sirsi Circle Town Hall Flyover
Richmond Circle Flyover
Mehkri Circle Underpass
Beniganahalli KR Puram Flyover
Varthur Road ORR Grade Separator
Central Silk Board Flyover
Whitefield Road ORR Grade Separator
Hebbal Lake Interchange
Jayadeva Flyover
Anandarao Circle
Airport Road (Koramangala - Indiranagar)
Yeshwantpur

The Rs. 27.60-crore project has a main carriageway of 647 metres and is 14 metres wide. It is expected to ease traffic congestion by 10,000 passenger car units (PCU) per hour. The fluover includes a five-lane uni-directional carriageway up to Anand Rao Circle with a two-lane one-way down ramp towards Basaveshwara Circle and a four-lane one-way flyover on Seshadri Road crossing Anand Rao Circle and Subbanna Circle.
Anand Rao Circle is among the most congested traffic junctions in the city and the only junction in the city where most Bangalore Metropolitan Transport Corporation (BMTC) buses pass through.
Hosure Road Elevated Expressway is a 10 kilometers (6 mi) long elevated, tolled, access controlled expressway is the recent addition to Bangalore. The project is a part of the BETL (Bangalore Elevated Tollways Ltd), project as part of the National Highways Development Project and the Elevated Highways Project. It was initiated in early 2006, and was inaugurated on 22nd January 2010.
It starts from Bomanahalli after the Central Silk Board flyover and goes on up to Electronics City. It goes above the BMIC flyover on Hosur Road.
The planned one-way toll for the expressway is Rs 10 for two-wheelers, Rs 30 for four-wheelers and Rs 80 for Buses.
In its future flyover projects, the BDA has drawn up plans to use some new technology. The authority will have anti-skid surfacing, using German technology. This is to be used at the flyover planned for Trinity Circle.
BDA earlier used time-saving technology such as pre-cast components assembled at site. Some were used at the Krishnarajauram-Whitefield Road flyover and some are part of the Airport Road flyover project. Using pre-fabricated components also reduces cost.
The peripheral ring road, connecting Kengeri and Kanakapura, is likely to be opened to traffic by the end of January. Besides diverting truck traffic and long distance buses away from city roads, it is expected to help commuters in the new suburbs.
---