Koshy's
The Pride of Bangalore on St. Mark's Road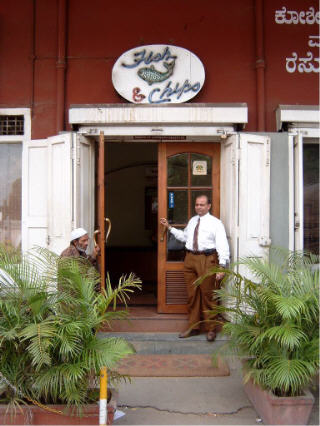 A few dining places have stood the march of time, where the old and the brash new Gen X strike a perfect harmony as they gossip or catch up with the latest happenings over a "cuppa". At Koshy's the roll call of honour have seen the likes of great Indian Presidents, Prime ministers, and chief ministers besides catering to ceremonies held in honour of visiting Marshal Tito, Nikita Khrushchev, HH Queen Elizabeth II and to the cast of 20h century Fox filming unit to name a few. The old world charm of the wood panels, sturdy chairs, line drawings of Bangalore of yore blends unobtrusively with the zany granite pillars and colourful table cloths. Started in the 1940 as a bakery outlet it gave place in 1952-53, to the Parade Café, where seasoned and budding politicians, journalists, professors, lawyers, business men, romancing couples holding hands had their snacks and Koffee/Tea, lunch or dinner. News gains momentum here and at times many a important decisions are made here. 50 years of glorious service and the patronage doesn't seem to be waning as the AC Jewel Box restaurant was added 6 years ago thereby segregating those who have a fondness for their tobacco from those who do not. This is still a rendezvous for stolen moments, nostalgic recalls, conferences, not forgetting the tourists. Whenever in the vicinity I'd dash here for the bread toast with scrambled eggs and the ubiquitous Koffee to revive my spirits though the Vegetable biryani is a big disappointment.
There is a dance floor which probably is used at the time of X mas and for heralding the New Year. The adjoining department store stocks all organic products and their oven fresh bakery products are readily grabbed by the diners as is their vitamin enriched bread that still retains the flavour of the English tradition of bread making.
We are charmed by Mr.Prem Koshy, the third generation restaurateur. Very articulate, his stints abroad have helped in bringing the freshness and innovativeness of the new generation in management and working on the goodwill of the earlier generations ensuring that Koshy's is a happening place. He leads us to the table in style and the best of the Koshy fare is ordered. Leaving us to relish the Fruit Punch, Prem makes his way to the kitchen, maybe to give that final touch to one or two dishes. As we sip, we are enchanted with the amalgamated fruity richness of a variety of seasonal fruits. In a long stemmed glass the pink rusty coloured punch was perfect for a hot afternoon though we were ensconced in cool confines.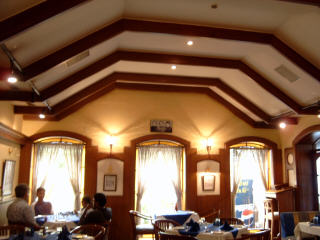 He tells us to try the combo of rice and dhal with stir fried kerala style aloo Gobi. Each vegetable was juicy and well cooked though the gleaming oil was the handiwork of Prem to give a whacky taste to compensate for the plain dhal when he dashed into the kitchen. This simple fare brought memories of mum's swadist food. The separated rice grains had gracefully lengthened to their maximum and jelled with the dhal effortlessly. The spinach bake was scrumptious. It takes a lot of guts to make the bake with greens as it has to be properly cleaned. The white sauce and cheese were in the right proportion. The bake should have been given an exotic name. (Nature peep bake-Howazzat?).After a long time I enjoyed the Avial in Malabar style as the Mangalore version has dollops of coconut oil. There was no generosity of coconut masala too. The Pork Fry cooked the Malabar way was a nice dry preparation that was a fitting accompaniment to the rice and dhal. Some like it hard but the soft concoction was done well.


The Fish Fry was a lovely fillet of fresh sear fish; well marinated with no overbearing masalas.The tandoori chicken kebabs were juicy chunks and the chicken pilaf was good. Rounding this well thought meal was the chocolate mousse. Wickedly inviting the dark brown and light dessert was the signature item to the Koshy's food and hospitality. I am taken aback when Prem tells me that around 891 dishes come out from their kitchen and the dishes have evolved in response to customers' preference. A meal for two without drinks hardly costs Rs 300/=.
With pride Prem shows us their visitors/guest book maintained since 1963, and notings of Maharani Gayatri Devi, Arundhati Roy, Tim Sebastian, Prannoy Roy, Anju Bobby George, Anita Paff, the grand daughter of Subhas Chandra Bose etc boldly stare at me.
A sonnet by one Vijay Sai scrawled on 21.06.06 echoes the essence of Koshy's.
Fish and Chips it reads outside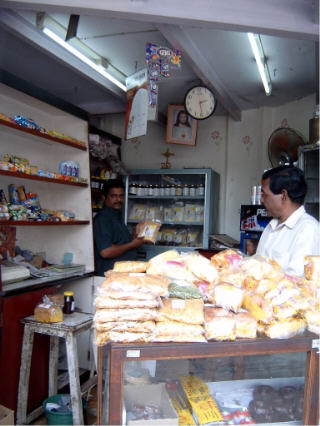 Chips and fish you savour by the tide
Beer and beef could make a complete meal
Pork and smiles would add to the deal

An aid that helps track the history of food
In a city that boasts of culture old and new
When your senses urge for that cup of tea
Turn around the corner you'll find KOSHY'S

(With support from Sunil Baindoor)
If you have visited Koshy's recently and would like to comment on its quality of food or anything about the restaurant, please rate this restaurant here
Priya writes - This is an old no-frills place whcih serves fantastic food. There is the smoke filled older side and the newer AC side(which is always empty). I always go to the older side since that reminds of the true Bangalore I had left many years ago.
Their Sunday Appams and Stew combo are one of the best I have ever had. The omelette/Toast/Sausages are pretty good. Coffee is to die for. Prem Koshy is also a fellow Texan and was nice enough to send for a snack for my little one while we were waiting for our order. Their Kheema curry Rice is also good. A lot of their food reminds me of home cooking.
Even their baked goods like their whole-wheat bread, plum cake, sweet and salt biscuits are good.
Koshy\'s is quintessential Bangalore and I would go back again and again provided their quality doesnt change!