Guhantara
on Kanakapura Main Road
Who am I?
Its one's yearning for the cultural identity, to want to "Connect" to your roots which alone answer this oft repeated query. The verdant Chickamagalur district where pristine Nature formed the backdrop for the best part of their growing years, where man and nature blended perfectly is what well known architects Mr.S.N.Ramesh and Mr. C H Ramesh have sculpted/ replicated on a patch of 4 acres of land. A Great place, exceptional in more ways than one, it reinforces man's capabilities to optimize on Nature's bounties.
On Kanakapura Main road, 22 kms from the city, you whiz past the Art of living ashram and take a right turn after Kaggalipura Lake. Further 4 kms of bumpy ride, a reminder that the Bangalore Metropolis has not been left far behind, you halt at a breath taking dead end of an entrance that has a moat and bamboo draw bridge. (Only the guards were missing). Venu Rao who has conceptualized the hospitality aspect of this resort to bring out the WOW factor is at the entrance beaming probably relieved that I made the trip in one piece. GUHAANTARA - India's very first CAVE RESORT, suspended in time and space and as the brochure proclaims –Saga of mankind. On this canvas, The Ramesh's dreams have been etched, an endeavor to make this a "One stop Getaway". The logo of the fossilized Nautilicus conjures images of mystery and antiquity. I walk through a cavern with the fresh smell of caked earth, air and light that opens into a circular amphitheatre (700 seating capacity) overlooking a spectacular view of a knoll, where light streams through, has water cascading from above and gathering into the swimming pool below. With the rainbow at one end and daylight at that place, it's a sight that I will not forget in a hurry.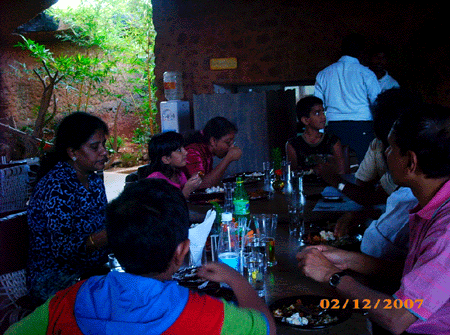 Unlocking the floodgates of memory he says-"From my childhood I was artistic, and father, a teacher was my Guru and inspiration. I nursed an ambition to become a big Kannada film star as I was the local Rajkumar instead I created other people's dream habitats. With a BE (arch) from the BMS Engineering College I met Sri. Dinesh Verma, my god father who told me to relegate my stardust reveries to a hobby. I shifted to Bangalore in 1985/86 and he handheld me in the first 10 years, and branched out in 1994. It was then that a feeling of dejavu engulfed me and it took some time to realize that it was MY ROOTS, my PLACE that I was yearning for. I did land mark Bungalows, unique apartments, where each one is like a house. My next project of row houses on 5 acre of land will be without roads. How? Wait and see" says S.N. Ramesh.
Guhantara is abounding in creativity and originality. Given a free hand by the promoters the architects were able to unravel earth's latent mysteries to Guhaantara. They feel Environment is an important issue and an extension of life. The five nature elements are an intrinsic part of man and hence they wanted to work with the panchabhuta theme, with minimal human intervention and follow the natural contours of Earth. "Like the mother's womb we conceived the idea of an underground resort that would be an incubator ensuring a sense of security for the guests. It was Herculean to work around the numerous shortcomings like seepages, leakages, lack of light etc, and did good lot of homework on this idea. Our experience of building terrace gardens for apartments came in handy. Natural earth and wall are seamlessly integrated here. Aeration is in the direction of natural wind, alongside light streaming through these vents. Gradient is there so that water can drain off naturally. It is shaped like a Dome which is very strong and cuts costs. The Atrium shows the gallery, dining/ bar area and swimming pool spaces" says S N Ramesh.
With child like excitement S N Ramesh tells me in the daytime it will look like a sitting area with the space for indoor games and swimming area transformed into a stage background with subtle lighting in the night, that's excellent for staging shows. "I've opted for the lithic style and not the ethnic one. Equipped with modern amenities, there is for the youngsters a provision to play with water, a sort of rain dance."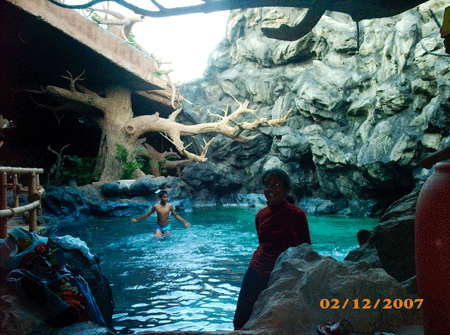 With 10 lakh litre rain water harvesting facility that will resemble a natural lake, usage of minimum wood that is needed for a 30x40' site, Bio Thermal power for heating purpose, CFL bulbs of 5-8 watts- all eco friendly components. The conference room for 100 people is equipped with state of art facilities. This unique milieu has greenery all around like a village Bana, far removed from the "corporate greenery. With 20 rooms that have skylights and lawns covering the ceilings on the outside, I am sure this resort will appeal to the rich and the nouvea rich who in the name of modernization are detached from their roots and Guhantara is the right ambiance to reconnect. Different from a theme park the natural is merged with little modification for the modern man's comfort and to transport to the lithic era." S N Ramesh has poured out his heart and the spirit of adventure that is infused in to this space is incredible and incredulous.
The dining area-Sambhojana has a Zen like simplicity, offering multi cuisine and a selection of regional favourites as one's senses get soothed by the gently spilling waters in the front. The Chef Vishnu Pai, earlier with the RR and Nalapat group hails from Mangalore--the land of intense culinary delights and flavours. He typifies Bernard Shaw's—there is no sincere love than the love of FOOD. With typical Mangalore pride he tells me that he can dish out 16 variants of Dosa from the same dough as also an array of the softest idlis. He specializes in fish preparations and evening snacks. He would prefer to pound the masalas fresh rather than dry grind in the mixie. His kitchen reflects the seamless symphony of village cooking of stirring, grinding, turning, cutting, garnishing etc.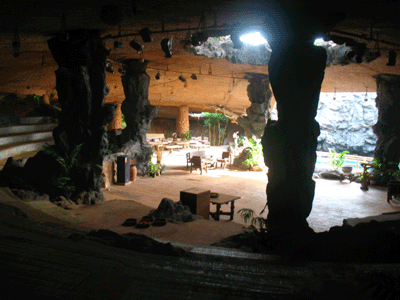 With Vodka, we nibble pleasurably on mushroom and Gobi Manchurian, with the mushroom and Gobi tenderly melting in the mouth, the masalas and garnished layer playing second fiddle to the veggies. Alsande gashi (dried beans in coconut gravy) and chicken sukka are the show stoppers. The hot and sour chicken (in tamarind juice, coconut and red chilly powder with onion seasoning) was the non veg Manchurian. On the day of the invite it was a Mangalore treat.
There was Pundi (rice preparation) with chutney powder. The thambli (gravy chutney with onion pieces), gojju (chutney) for the pathravade (a steamed preparation from arbi leaves-typical M'lore dish) with minimal raw spice masala of pepper, red chilies and coconut with a final twirl of coconut oil simmered to perfection. The Russian Salad was the surprise element and the mayonnaise seemed without the egg component.
Rice with rasam, and usli warmed the cockles. We called it a day at the dining table with Fruit salad. (Prices were not yet fixed) Vishnu was insistent that we have "light Tiffin" and in a jiffy capsicum and sweet potato bajjis (Veg pieces encased in a coating of besan i.e. gram flour and deep fried) made their appearance. They simply disappeared, thereby complimenting the chef. As I take leave giving my suggestions for enhancing the rustic look, in unison Ramesh and Venu Rao echo "People should talk and carry it to the city. We are planning a big New Year bash that we hope will be the talk of the town." It had a grand opening on the 8th of December. In the days to come this cave resort will find an entry in the record books.

Guhantara
Sy. No. 177 &178
Nookenepalya, Kaggalipura
Kanakapura main Road
Bangalore South taluk
Ph; 9740998981/82
If you have been to Guhantara recently and would like to give your feedback, please provide here
WHAT PEOPLE SAY ABOUT THIS ARTICLE AND GUHANTARA
Dear Githa

Thanks for sharing your article. Day after wife and is visiting Bangalore and there is as yet a question mark over my accompanying her. If I make it, I want to take her to Guhantara. Your article gives vivid description of the place.
Best regards,
VIjendra Rao