You don't have to wait for one of those rare foreign trips or those really exotic food festivals to taste Arabic cuisine, because Bangalore now has its own Middle Eastern café to boast off. . This week
visited Ta'am Falafel to bring its taste to DiscoverBangalore visitors.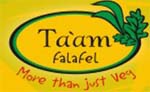 Ta'am Falafel
in 4rd Block, Koramangala
Welcome to a totally new experience in food. That's how Ta'am Falafel greets its guests to taste Middle Eastern cuisine with Indian hospitality.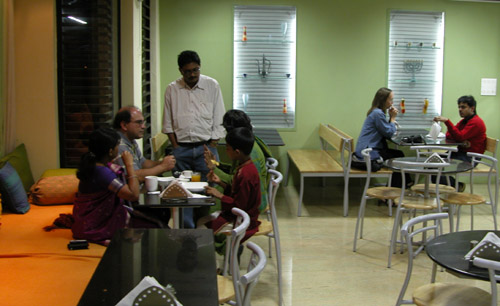 Anil Elassery, after being inspired by his long stay in Israel, set up Ta'am Falafel a small falafel café on 4th block, Kormangala.
'Back in the Middle East they don't have fancy restaurants serving falafel. It's like the road side wrap shop. The falafel is stuffed into the pocket of the pita bread with hummus, pickled vegetables and strong flavoured sauces, wrapped and served, ready to be carried around while you shop or travel.'
Falafel is a chick pea patty, which is flavoured with herbs, spices and vegetables. It looks like our own Medu vada and is usually served with Pita bread, hummus and Tahini sauce. Falafel in a pita started out as Egyptian but was popularized by the Israelis and is now popularly known as Middle Eastern or Arabic street food.
The head chef - Somendu Sarkar, brings his culinary skills from Taj and works along side Anil to create a truly unique Middle Eastern experience for Bangaloreans.
Anyone who has tried Arabic food seem to like it almost instantly, that's because Arabic food draws heavily from Indian cooking with a strong emphasis on sesame seeds, curry powder, thyme, tea, mustard and olive oil.
One would easily miss the place as it's located in the quieter residential areas of Koramangala. There is nothing Arabic about the décor, it's plain, clean Spartan yet very contemporary. The cheerful yellow green walls set the mood for a perfect salad meal. One corner sports a nice colourful mattress with cushions while the rest of the seating comprises of benches and chairs typical to a café.

I liked the salad bar, it offers a great mix of beans, pasta, greens, pickled vegetables and dressing. The portions look deceivingly small but are actually quite filling. A typical falafel platter comprises of 2 slices of pita bread, falafel, hummus, tahini sauce, mustard sauce, mint sauce and pickled vegetables. I also ordered a side of feta cheese (cheese made of goat's milk) and baba ganoush dip (barbecued eggplant paste) and I must admit I was stuffed.
Anil has expansion plans in mind. In future Taam wants to make falafel a household name.
'I want this restaurant to be an exhibit to popularize the falafel culture before I take it back to the streets – at shopping malls and other high traffic places just like the wrap joint. It's important people know what falafel is and acquire a taste of the Arabic spices.'
To taste the typical Arabic street food one ought to make a visit to Ta'am.
With Bangalore offering so much variety in International cuisine, DiscoverBangalore strongly recommends a visit to Ta'am Falafel and experience the Middle Eastern Food.
Ta'am in a Pita
Cost: Rs. 300 – Rs. 350 meal for 2
Cleanliness: Good
Quality: excellent
Service: excellent
Ambience: average
Bottomline: For a quick bite of authentic Arabic fast food it's got be Ta'am Falafel
Address: #565, 8th Main, 4th Block, Koramangala, Bangalore – 560 034.
Telephone: (080) 41169898, 41469595
To know more log on to www.taamrestaurants.com
If you have been to Ta'am Falafel recently and would like to give your feedback, please provide here
---
Anand Kumar from Bangalore rating the restaurant as "good" under all traits says " I had been recently on a buisness trip to Saudi Arabia .It is here in Jeddah that i developed a taste for falafel. the only safe food being a vegetarian
Once I was in Bangalore, the foodie I am started hunting if I could finf this delicacy here.To my surprise i found a small joint in koramangala.
On a rainy evening with most of the local junkfoods(Local Chat wala)closed.I thought this was the time to check out the new falafel resturant Ta'am
Ta'am is located on the mazanine floor.The ambiance is more like any other fastfood joint that comes up every other day. The menu is minimilastic , that is understood this is a specialised falafel joint. I opted for a Ta'am Falafel - pita bread stuffed with vegetables and falafel served with tahini and other sause.
There are other options which by reading at the menu felt would be too heavy for the evening. The falalfel were crisp though the pita bread were slightly on teh thicker side, the vegetable were crisp .The portion is large enough to form a good meal.
The place also has a limted choice of desserts.but different from what we normally end up with. Once i had finished my falafel sandwich. I was tempted to take the falafel along with hazel nut cream roll to my family and got great reviews about the roll
Overall a nice experience and a must try place