Discoverbangalore is pleased to bring to our visitors the new Business Hotel nestled in the heart of Electonics City, with its internationally vibrant cuisine that use only freshly grown organic produce from neighbouring farming communities..
reveiws E-Inn.
E-Inn....The Silent Hotel on a Busy Road
on Hosur Road, Electronics City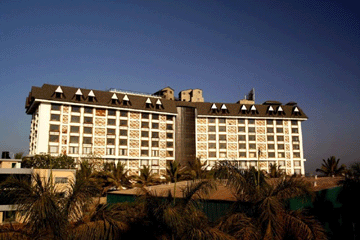 "Beating the traffic of hosur road, e-Inn is like the light cool shower on a hot summer day. The ambience takes you over from the hot grudging day to a welcoming homely feeling.
The exteriors and the interiors of the building are inspired by Tudor architecture, and is thus lavishly done up in wood. The nine floor 252 luxury rooms & suites is a top class business hotel, at present caters to 100 available rooms for occupation. The rooms consist of individual air conditioning units & do not depend on the central air-conditioning unit.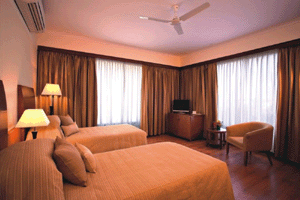 E-Inn accommodations have been priced at $125 for single occupancy and $150 for double occupancy excluding taxes.
The Business hotel boasts conference room, business centre, & a fully equipped ballroom with hi tech audio visual equipment. The hotel has wifi connectivity to access internet anywhere in the hotel.
The hotel also consists of International class spa, Massage parlor, Rooftop Gazebo & the clincher - Rooftop swimming pool - The vanishing edge of the pool gives a great feeling for the person enjoying the swim.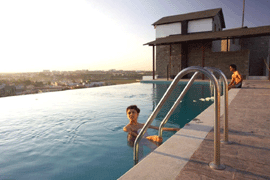 A perfect ambience for the business travelers. A homecoming feeling for all those globe trotters. The Rooftop Gazebo still to be operational has all the ingredients' for the perfect romantic ambience.
A small drive from Electronics city reminds its employees of their mama's food. E-Inn Serves pure healthy vegetarian food & a homely stay.
The 24hrs coffee shop "Time Traveller" serves buffet lunches and dinners with a continental breakfast. The Lunch Buffet consists of 10 salads, 18 Main course items, 10 Desserts. (Sugar-free desserts also available). The continental buffet specializes in appetizers' of different Bruschetta's, Chinese Spinach mushrooms & others.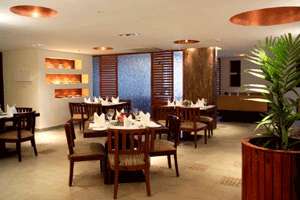 The New Indian Restaurant named 'Amal' boasts recipes from homes across India. The Independence day special buffet featured Kashmir to Kanyakumari concept - 60 dishes across each state of India. Saurabh Saxena – The head chef is proud to have chefs from across India & has rich experience working with Leela, Royal Orchid & the Palm meadows. The great news for health freaks is that e-inn has a special masala exclusively developed for diabetic patients & have health menu also.
E-inn and its restaurants serve only vegetarian cuisine and non-smoking zones, no carpeting in the rooms, windows that can be opened for fresh air, and direct ventilation in toilets. The hotel has banned Alcohol and smoking on its premises.
For reservations and more details call 40400400. Or visit http://www.e-inn.in/
This business accommodation hotel (part of Akkayya Consultancy Services) is located in Bommasandra Industrial Area, hebbagodi, Hosur Road.
Discover Bangalore Rating :
Food and Presentation: 3/5
Ambience & Decor: 4/5
Customer Service: 3/5
If you have been to E-Inn recently and would like to give your feedback, please provide here