Discoverbangalore is pleased to bring yet another review on a Multi Cuisine Restaurant on Lavelle Road. Our Special
reviews.
South Parade
on Lavelle Road
A popular place with the corporates, this centrally located restaurant has re- invented and innovated the cuisine to hold their fort in the mushrooming scenario of umpteen eating places. Their happy hour dining from 12 pm to 2.30 pm was a novelty before the Cinderella timing for Bangalore was introduced. (But how many takers?) With two restaurants- South parade and Khayal (earlier Moksh) the afternoons are crowded.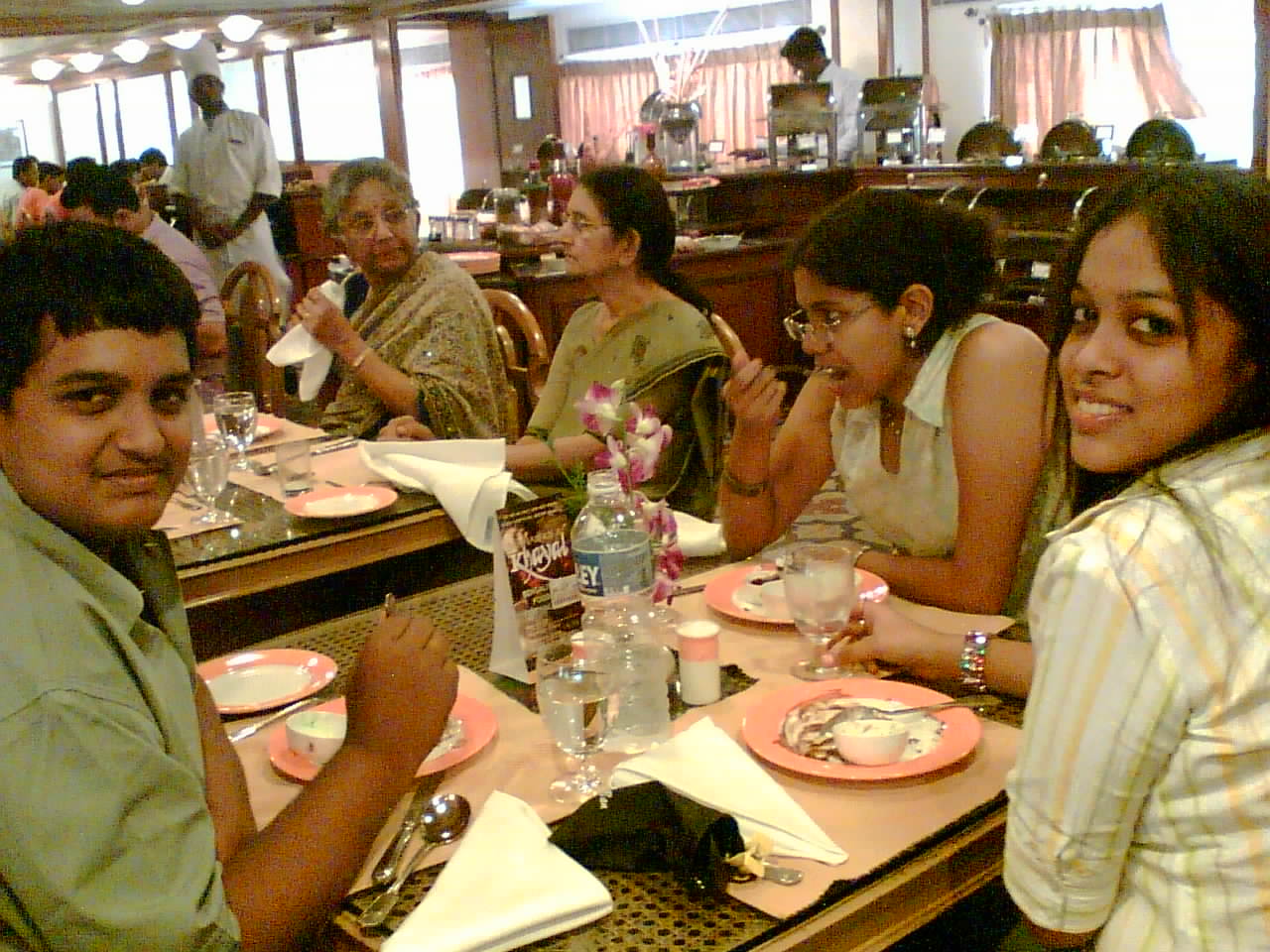 As I was acquainting myself at the South Parade restaurant in Chancery hotel with the array of desserts and interacting with the sous chef, in no time I found the Chef at my table. It was a pleasant surprise and he took me on a culinary journey that made the experience enjoyable.
SP is a Multi cuisine restaurant predominantly with a European fare, also serving Chinese and Continental. "We have a live counter. With groups coming for the buffet lunch and our regular in house diners (read expats) for dinner we have been including dishes of their choice, as such Mexican, French, Italian and Arabic food also form a part of the cuisine here. The Arabic food has many takers here. We go easy on the oil especially in the Indian menu; otherwise the oil will float as the buffet food is kept for 2-3 hours. We do not want our diners to leave the restaurant with a heavy feeling. The chefs have been told to go easy on the oil", says Chef Biswal from the Kalinga land. He brings in his 15 years of Taj( Chennai) and having worked abroad experience culminating in the varied culinary delights. There is an everyday lunch buffet priced at Rs 380/=. Buffets are a feature of all restaurants today as diners want a spread that is reasonably priced without the hassle of wondering what to order. Their traditional Bengali food festival, I am told is very interesting.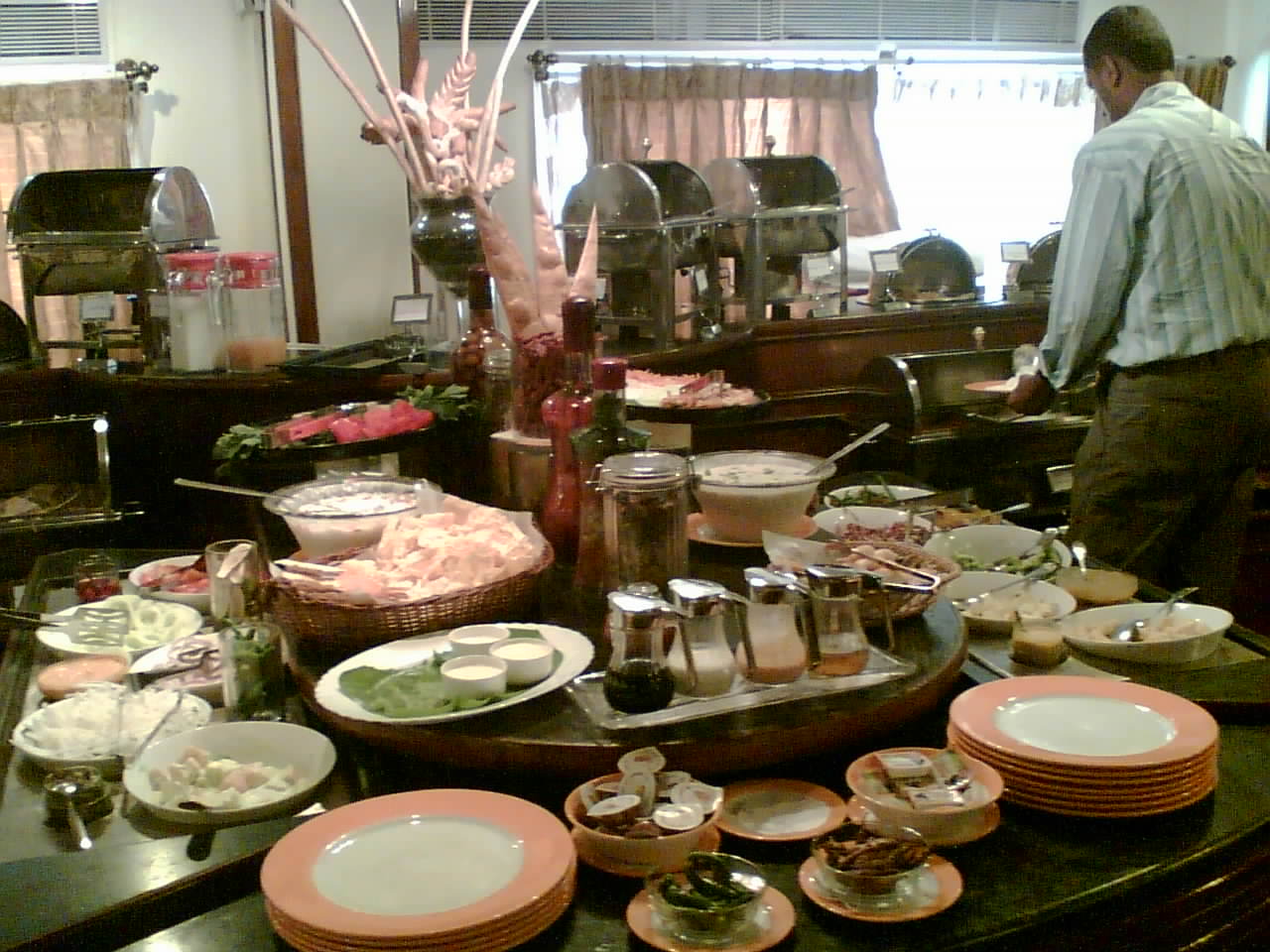 Of the twelve salads, one is a cold cut. The salad veggies were all crisp cooked Chinese style, i.e. tossed in a wok on high heat. The veg and non veg soups were Continental. The Tom yam soup was Ok. For starters there were lots of papads, dim sums, satay and Veg bruchupi which is a grilled continental starter. The Aapams were thick in the centre with a lacy rim reminding me of a lady's muslin handkerchief. It went well with the stew. A stick of Cottage cheese grilled with capsicum, tomatoes, French pepper and zucchini dipped in tomato and Worchester sauces called for a second helping. The red and white meats were well marinated bringing out their succulence. The marination in the masalas for the sea food was for sure, for a shorter duration than the meats for they had that "luscious feeling" that only the fish, prawns etall impart. The fish was properly marinated in black pepper, salt and lime sauce and cooked precisely to retain their Omega goodness. The prawns and grilled lamb chops were delicious.
The day I visited, there was French, Italian and Chinese flavours. The French chicken alapine was chicken in white sauce and cream, garnished with boiled eggs and olives. For a change the eggs and olives made a mix and match of bland and tangy tastes. The Italian Zucchini balsamic, with crispy vegetables teemed well with garlic and basil, tasting more Indian without the oil though. Probably the Chinese fish in garlic sauce did not have the MSG, but I took no chances.

Murg Kali mirch masala was good with both rice and rotis. The mutton saru, Mangalore style- in coconut milk with black pepper and chillies, curry leaves and star anis jagged memories of the Karavalli coast. I did not find anything regal about the chicken ala king. The pommodauphono was a mouthful either ways. The Avial had lots of vegetables(less drum sticks) and coconut oil not discernable. There was no smell of coconut. Punjabi dhal makhani was soft and not mushy. The Jeera pulav was very nice as most of the time it's plain rice alone with specks of cumin. The Indian and Western items were displayed on either side of the table with alternates of North and South Indian cuisines. Palak paneer, makhani dingri (mushroom) mutter, bhanda gobh ke sabji (cauliflower), rasam – full marks. Butter milk and mixed fruit juices were lined up as thirst quenchers.
The desserts stole the show with yours truly digging into all the items and refusing to be intimidated by all the calorie count. So what -You live only once and I was there to have a good time gorging on the tempting stuff. It was a mix of Indian and western sweets. Soufflés and mousse seemed popular that afternoon. The ice cream with hot carrot halwa having less sugar and ghee was in a different avatar being sufficiently westernised. The twin flavoured panacota made with cooking cream and gelatin with top layer of chocolate topped with mango was an innovation of the chef integrating the Indian and the French tastes. Mixed fruit Truffle which was custard with fresh fruit was light. Cream pudding of milk, egg and sugar caramel with small pieces of raisins and nuts was still the ubiquitous Caramel Custard. The Carrot cake and Sponge cake get full marks. Peeli moth was good.

Ambiance 2.75
Food 3.0
The Chancery
10/6, Lavelle Road
Bangalore 560 001
Ph: 22276767/ 41188888

If you have been to South Parade recently and would like to give your feedback, please provide here