Yo ! China
on 80 Feet Road Koramangala
Another new address in an up market area has opened its doors for discerning diners in the last 9 months. The young crowds swarm this place during the weekends and voices have to be raised to keep pace with their energetic exuberance. With the remix and retro music that refuses to remain in the background, the ambiance of a café is complete. The orange-yellow coloured brightly lit interior is offset by the cool rubber wood seating having nearly 65 covers that is choc-a-block almost every day. YO! China in Koramangala is spread over two floors. With an open kitchen and an authentic Chinese chef, the executions of your orders are as transparent as the glass enclosure that gives a ring side view of the happenings on the road.
Manager Jeelani Athar says that Yo! China is the no.1 restaurant in Asia, with 25 outlets in India and Bangalore is their first outlet in South India.
My daughter, a regular here does the honours and orders for the Corn salt and pepper starter. Crispy, juicy, with bits of corn and cob, it's nicely done retaining the corn flavour. Polishing the last piece, I am trying to decipher the oil pattern on the plate. Their specialties are the Dimsums, Sates, Honey chilly potato and the Combos. The Veg Dimsums arrive in style, steaming hot, resting on a leaf, encased in bamboo containers. This rice flour dumpling has a stuffing of finely chopped vegetables and mushroom with a hint of salt that teams very well with the sauce (sui mai) that's tangy, tomato and vegetable based. The five pieces come at a price of Rs 12/= a piece. The red and white coloured sauce is a visual delight pepping the taste buds too. The chicken dimsums are equally good.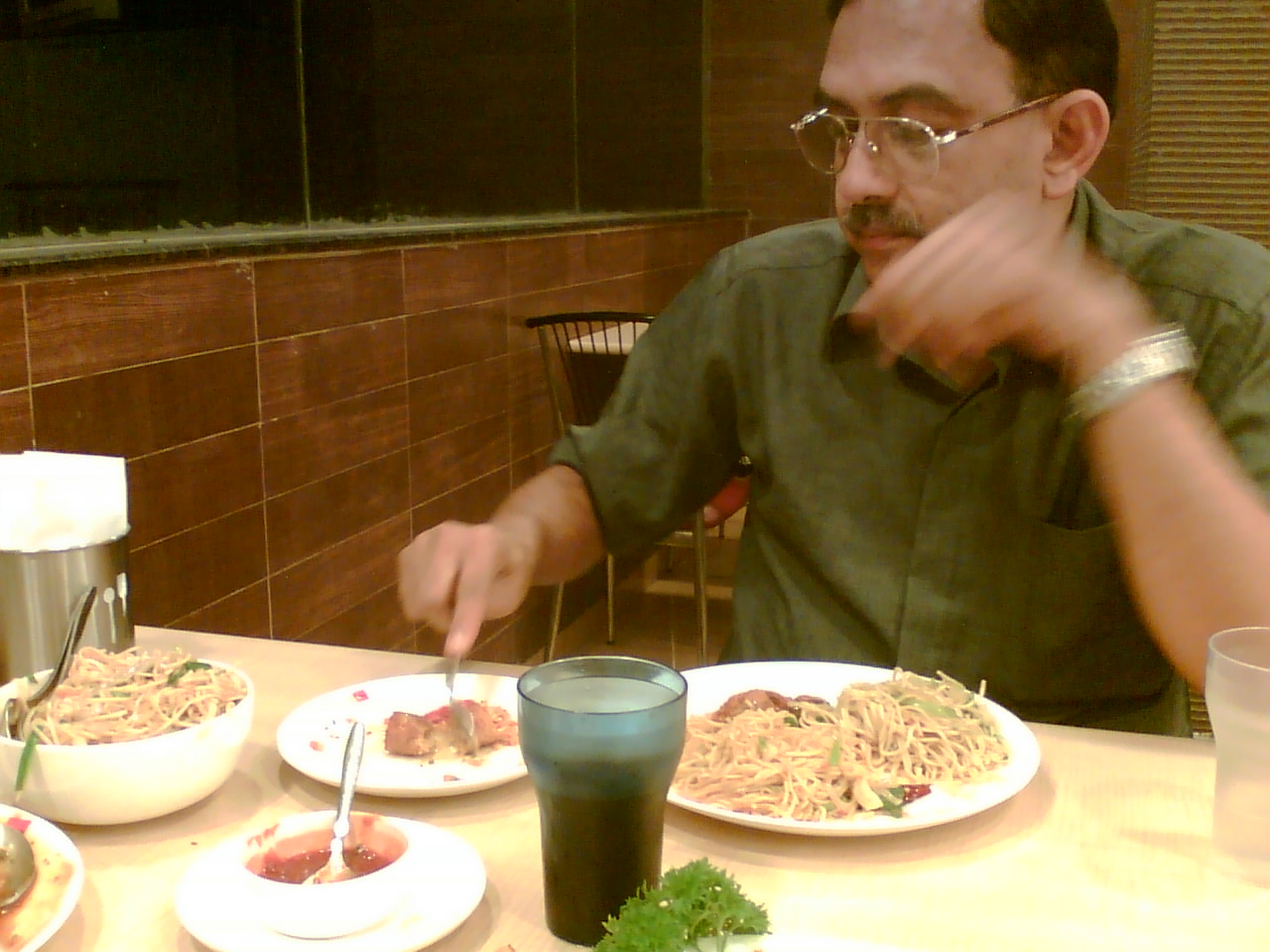 On the menu are the Gobi Manchurian (65/=), Chilly paneer (55/=), Veg salt and pepper (55/=) Chilly Paneer (55/=). For the non veg it's a veritable choice from Chicken lollypops (55/=), Chilly chicken fry (45/=), dry or gravy based, Chicken sate, Chicken Wings, Chilly Chicken Dao, Chicken soi mai.
The Veg hot and sour is spicy and a treat for those with troubled noses. I recommend the Veg Sweet Corn, Veg Lemon Coriander soups all priced at Rs 59/= and for the non veg the above are chicken based at Rs 45/=. The single and double Combos are a meal by themselves. The single combo is a Veg spring roll with fried rice or veg noodles (89/=), the Veg sweet and sour (99/=), Veg Schzawan (very spicy at Rs 119/=) and the non veg combos at Rs 139/=.
The double combos are priced Rs 99/= upwards with a starter, salad (Khimchee), noodles and rice. The Veg Manchurian with hot garlic sauce (Rs 159/=) seared the tongue but was delicious. Another variant is the Veg Schzawan (Rs 169/=). The Veg Chop Suey and Chowmein are filling. Those not wanting the combos can go for Veg fried rice (Rs 39/=), Veg Chowmein, Rice noodles Chopsuey or and the spicy Chilly Garlic noodles which my daughter rates very hi. The non veg combo no.9 of Chilly Chicken with Lamb Schzawan was different. The quantities are filling.
Their fixed menu of 1 main dish, hakka noodles and scoop of ice cream is a steal at such budget prices of Rs 65/= (veg) and 75/= ( non veg).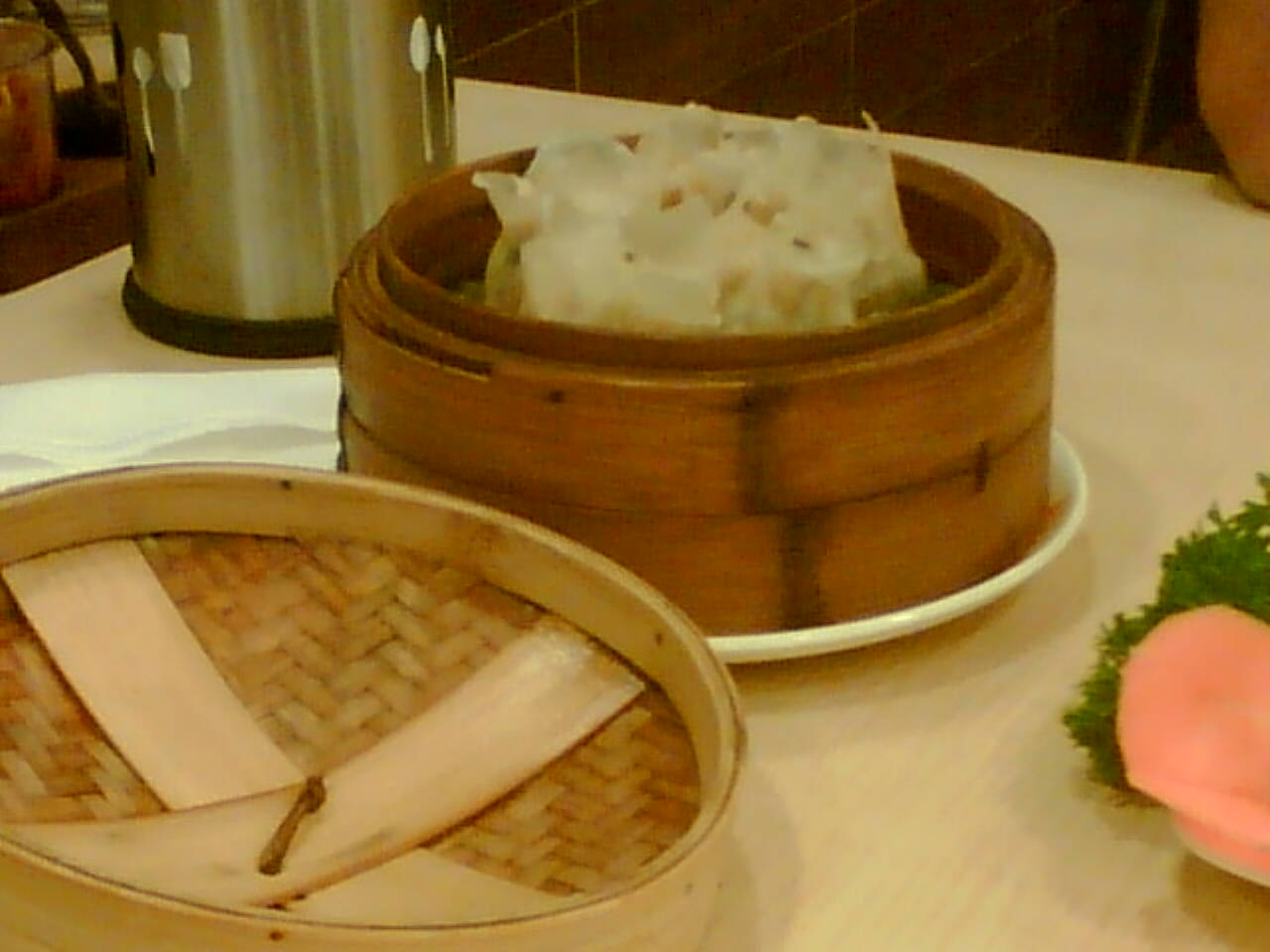 For the desserts the chocolate Brownie with or without ice cream and the rich chocolate cake were wickedly yummy. Mocktails go by such alluring names as Southern belle, Electric shock etc.
There are great family, kitty and birthday party packages from Rs 90/= onwards with 4 items and vanilla ice cream. They undertake home delivery within 5 km radius.
This restaurant differs from the scores of Chinese counterparts, as the service is quick like in a fast food joint, the food comes aesthetically dressed and with darshini prices to boot. Implementing the customer feedback seriously, do not be surprised if you hear the strains of Hindi music wafting or find the food spicy for a CHEERFUL (YO) or should it be YOung China eating place whose joie de vivre cannot be missed.
On a scale of 5
Ambiance 2.5
Quality of food 4.0
Service 3.5

897/B, 6th Block, 80 feet Road
Opp. IBP Petrol pump
Koramangala
Bangalore 560 047
Ph: 41124040
Website : http://www.yo-china.com

If you have been to Yo! China recently and would like to give your feedback, please provide here
Mr. William Bissel giving the restaurant an overall poor rating states " Visited yesterday 17th June 2008, came across a dumb manager and unhygienic ambience. My appetite for food was over but my wife insisted "lets try" The food was excellent and the chinky looking waiter who served us could not understand properly what we said, but all his efforts to make us comfortable and happy is really appreciable. i am writing this just for that waiter. he deserves appreciation and reward who made me eat at the place.
Sudeep Krish also rates this restaurant as Poor and says " Food is not good as expected "