It is summer and the change is already in full swing at the resto world. It was probably a dream come true for Mansur and Sreeram when these IIM graduates quit their lucrative jobs and took up something that they are passionate about - taking fun seriously. This week
is taking a closer look at Brewhaha, the community-driven entertainment lounge, that is becoming the talk of the town.

in Koramangala
I absolutely loved reviewing Brewhaha, primarily because I spent 4 hours lazing around on one of their many bean bags, drinking lots of coffee and playing 3 different board games and didn't realise so much time had passed.
The place has an interesting story to tell. Sreeram and Mansur, two IIMA graduates gave up their fancy jobs in MNCs to start Brewhaha, a place where one would always find something to do. Brewhaha is located right next to JNC Kormangala and is no ordinary coffee shop. It is a community driven entertainment lounge where you can relax, play 65 different board games that you can rent at Rs.20 an hour, participate in a hip hop work shop or practice a hobby. They promise to make it fun for you, especially when you wake up early (ahem! 2.00pm) Saturday morning and realise you are going to be doing the same old thing - Hangout at malls, walk around MG, watch the biggest flop of the year.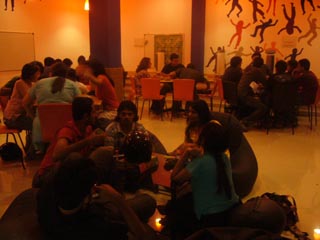 While Mansur is the game freak, Sreeram is the chief chef. They both go hopping from table to table teaching board games sometimes telling you the cheat code as well, so one must ensure that they definitely have them on their team.
I went there with a whole lot of people and none of us could agree on one game to play. Going by our collective IQ Sreeram decided to introduce us to Snorta! A wild game of Moos, Meows and more (he flatly refused to give us anything more intelligent). Despite us twits bombarding him with really stupid questions while he taught us the rules, he was determined to get us to play.
This game has no strategy and is in fact quite mindless, but it was a whole lot of fun. Snorta had a lot to do with animal sounds and all of us were laughing nervously because we felt slightly stupid 'Hee Hawing' around the place, but after we shed our initial inhibitions the place started to sound like a barn!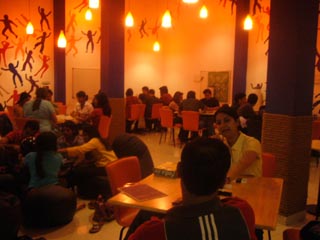 Their menu is interesting as well, I personally recommend the Calvin Brew shake, a scrumptious combination of dark chocolate and crunchy peanut butter. Sreeram recommended the artic chilly brew which was an exciting combination of coffee and chilli and better suited for the slightly more daring. You may want to read their menu a little closely as there is a funny story woven around each name. Here is one for example
The Home Galaxy Brew
The Latte – A cappuccino made the milky way
Or
Choco-lixir
Stir up some fun
The most expensive thing on the menu is not more than Rs.70 and there is only one of it, the others have odd price tags like Rs.23 or Rs.22 making this place extremely affordable not just by Bangalore standards but by anything I have come across.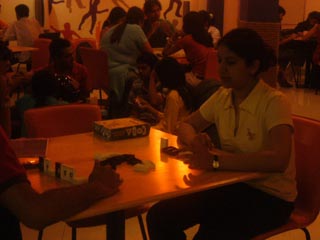 We then played an hour of Taboo and another hour of Quoridor and I realised I was hooked! Much to our delight the whole affair cost the 6 of us Rs.500.
Brewhaha has a cheerful décor done up in blue and orange, coined with an interesting assortment of furniture that includes bean bags, cushions, rugs, tables and chairs. The walls have colourful human figures painted all over and it runs all the way up to the ceiling. I liked the fact that they hadn't greedily cluttered the place with far too many tables so one had a lot of room to walk around, stretch and laze without worrying about hitting the person sitting on the next table.
On the flip side this place does not have any air conditioning and hence tends to become stuffy. In summers one walks into a restaurant or café more to beat the heat than to eat food. They wouldn't have half as much problem in the monsoons and winters when Bangalore swings from pleasant to biting cold.
So, if you're a group of friends looking for something interesting to do, BrewHaHa is where you want to be. And if you happen to go there all by yourself don't worry you'll always find Sreeram and Mansur up for a good game of Taboo or Boggle. When these guys say they take your fun seriously they really live up to it.
Brewhaha in a Bite
Cost: very affordable, meal for 2 Rs.100 - Rs.200
Cleanliness: excellent
Quality: excellent
Service: excellent
Ambience: excellent
Bottomline: A perfect place for fun, laughs and more.
Log on to www.brewhaha.in to catch what's brewing and maybe you could win a gift voucher worth Rs.250.
Having said so much about the place you must be curious to know the brains behind this unique concept. Mansur and Sreeram call themsleves as two guys who had had too many boring Sundays in Bangalore with nothing to do and decided to do something about it and thus was born Brewhaha, where there's always something to do. They built this place for people to hang out together, have fun playing a variety of games and have a great culinary experience with specialty sandwiches and desserts-to-die-for.

Mansur is the games-guy on the BrewHaHa team and is responsible primarily for building the game-portfolio and managing the game experience at BrewHaHa. A passionate gamer (of both the board and computer game varieties), Mansur's favourite part of setting up BrewHaHa is that he gets to play games on the job. Mansur did his undergrad in Computer Science and Engineering at REC Trichy and his MBA from IIM, Ahmedabad. In between, he completed the mandatory-in-Bangalore stint as a software engineer with 3 years at IBM.

Sreeram is a passionate foodie and enjoys creating new and interesting additions to the Brewhaha menu. He also jointly manages marketing related activities. Sreeram worked as a Program Manager at Microsoft in India before quitting to start Brewhaha. Sreeram obtained his master's in Computer Science at the University of Colorado, Boulder, and his MBA from the Indian Institute of Management, Ahmedabad.
If you have been to Brewhaha recently and would like to give your feedback, please provide here
Neha giving an overall "Excellent" rating says - Firstly id whole heartedly like to thank mansur and sreeram for comin up with such an innovative and fun-filled idea.. Havin coffee and being wit friends has never been so good. what i love about this place is the fact that it lets u spend some quality time wit your pals in a different manner rather than goin out for Just A coffee,shoppin,movies,etcccc...the food here is great and so is the service... u so feel at home... ud spend hours here playin all those different board games nd would always crave to come back soon.. its \"ADDICTION\"... i highly recommend this to everyone out there..