Ice & Spice
on St. Mark's Road
St Marks Road is littered with restaurants every two feet. Ice & Spice got there way before the rest and remains a Bangalore favourite till date. The decor is relaxed and quirky with a huge framed poster of funny American magazine covers. The seating is limited (around 15), but you will see a number of cars parked on the street and waiters running to and fro. Service is efficient though it can be slow at times.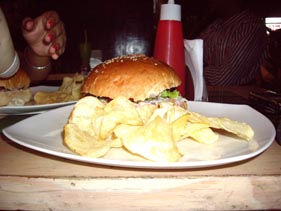 Ice & Spice has a varied menu ranging from burgers and sandwiches to steaks and pastas. Almost everything here is good. But their specialty is their burgers. Try the burgers here and you will know why McDonalds and gang fall to the wayside. Their Lamb Burger is one of the best. Succulent, juicy meat and a mind blowing sauce. The Veggies Cheese burger is another favourite. The patty is made of potatoes and crumbly fried cheese. They top this with a wonderful mayonnaise sauce that is out of this world. If you are very hungry, try the 'Tons of Fun' burger. This one is HUGE with lamb, egg, salami and loads of other toppings. This is sure to leave you full and contended.
The pastas here are pretty good too. It's not the best you will taste in Bangalore but they are tasty and are well worth the price. The pasta menu is pretty limited: Arabiatta, Carbonara and Aglio Olio but what they make, they make well. If you are in the mood, you could also try the pancakes which avoid being oversweet and are made just right. Their drinks menu is extensive and their cold coffees beat the regular fare at CCD hands down.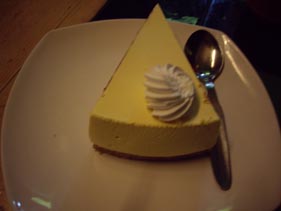 As good as the food here is, don't leave the place without trying out at least one of their desserts. They are fresh and displayed on the counter for you to choose from. The Ferrerro Rocher cake is an old favourite: a massive chocolate cake with nuts and Fererro Rocher. The cake is gooey, juicy and chocolatey. Loads of dark chocolate in here to satisfy any chocolate lover's palette. Chocolate lovers could also try the Mississippi Mud Pie here which is one of the best in Bangalore. The crumbly crust is wonderful. If you're not really a chocolate person, don't be disappointed. There is lots for you too. We recommend the mango cheesecake. It's not sweet but has that intangible something. They also have other cheesecakes and pastries.
Pricing: Rs. 120-150 per person.
Ambiance: Good
Quality: Very Good
Service: Good
Hygiene: Good
Location: 22, Opposite SBI, St. Marks Road, Bangalore
Phone:
22211094, 41121160, 32507859